Manage organization-level settings with Zoho Directory
Zoho Directory offers a single platform for carrying out all admin activities for your entire organization. Zoho Directory can help in ensuring your organization's online account security.
You can easily manage identities and users by integrating your Site24x7 account with Zoho Directory. For instance, you can change the organization name, enable IP restriction and MFA, update the password policy, sync users in Active Directory, auto-verify users, and much more.
Setting up Zoho Directory for your organization


Integrate Site24x7, StatusIQ, and CloudSpend with Zoho Directory
You can auto-integrate Site24x7 with Zoho Directory by clicking on the organization-settings-related options at the bottom of the My Account page in the Site24x7 web client. You can perform this only if you're an Org Super Admin or Org Admin.
Once the account is integrated, you'll be added as an admin in Zoho Directory. All other users or admins in your Site24x7 account will be added as users in Zoho Directory. To assign Zoho Directory admin roles to existing users or admins in your account, you can navigate to the Admin tab in Zoho Directory, choose the user to be assigned the admin role, and then click Assign.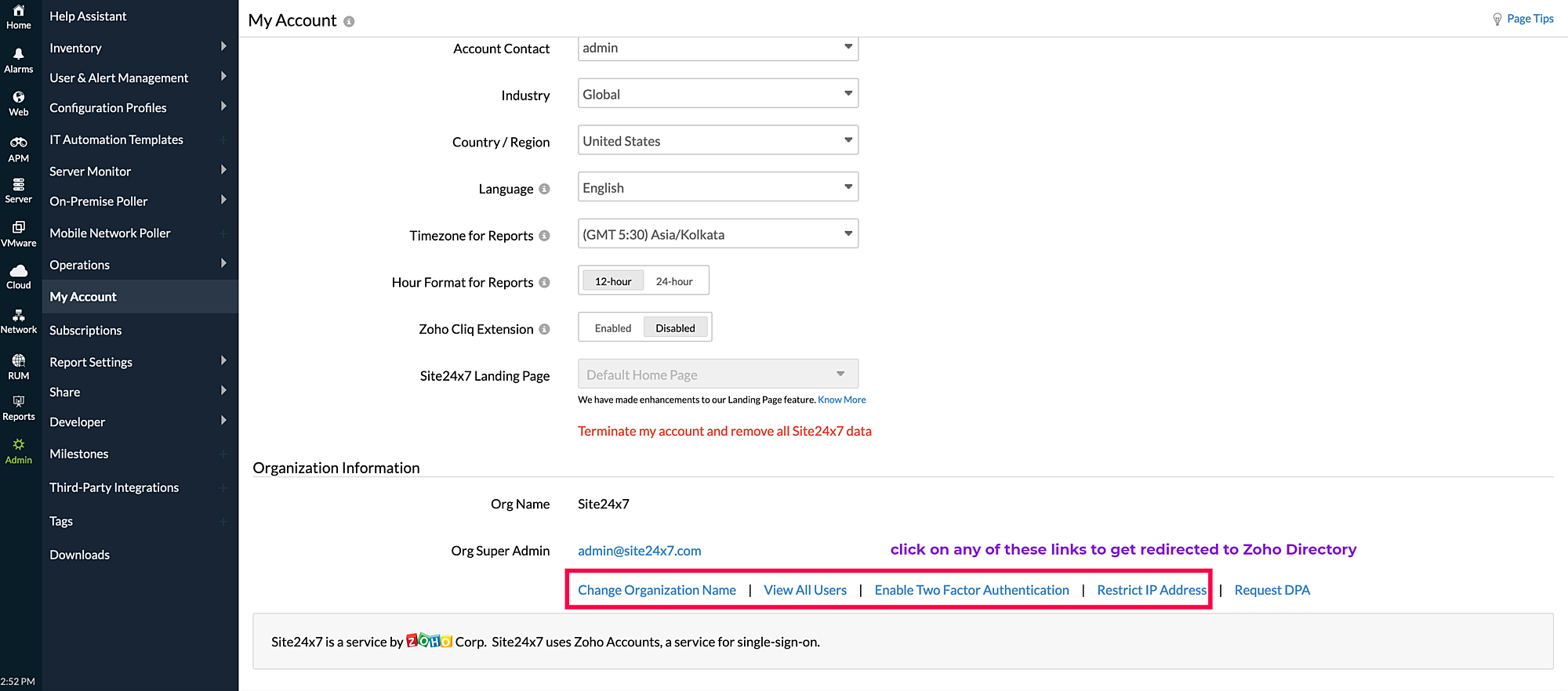 These are the steps for automatic integration. You can find the steps for the manual integration in the following section:
Integrating manually
Log in to Zoho Directory using your Site24x7 username and password.
Create a Zoho Directory account by providing your Company Name, Portal Name, and Phone Number (optional), and then click Create Account.
Navigate to the Applications tab and click Add Application.
In the Application pop-up that opens, search Site24x7 and click Add.


Choose the account of your preference and click Next.



Business units will be listed here as well.


For MSPs, only the MSP Portal will be shown by default. To list MSP customers, the User Role drop-down in the Users page needs to be enabled. Kindly contact Site24x7 Support to enable this.

Confirm the addition of users by clicking Yes, Add.
After clicking OK, Site24x7 will be listed under the Applications tab.


You can follow the same process for StatusPage and CloudSpend. Select these apps instead of Site24x7 in the Application pop-up.
After you integrate Site24x7, StatusIQ, and CloudSpend with Zoho Directory, whenever you add a new user to the respective app, they will be automatically added to Zoho Directory.
Once Site24x7 is integrated with Zoho Directory, you can add up to 7,500 Site24x7 users to Zoho Directory even though it is labeled Free Plan.
Manage users with Zoho Directory
You can assign users to applications like Site24x7, StatusIQ, and CloudSpend in Zoho Directory.
Log in to Zoho Directory.
Navigate to the Applications tab and click on the application you wish to add the user to.
Click Assign Users.
Provide the necessary details and click Assign.


All changes made in both Zoho Directory and Site24x7 will be synced. You can also update or unassign a user using Zoho Directory.
Only an admin in Zoho Directory can assign the Zoho Directory admin role to another user. You can assign the role by navigating to Admin, then choose the user you want to assign the Zoho Directory admin role to, and click Assign.
Auto-verify users using Trusted Domain
Associating your domains with Zoho Directory will make the employee onboarding process easier by enabling you to host your mailbox through Zoho.
Once you have verified your domain, you can add a user with the verified domain email address in Site24x7 or Zoho Directory and won't have to wait for pending users to accept your invitation, because they will be directly added as confirmed users.
Learn how to add and verify a domain.
Active Directory/LDAP Server Sync tool
The Active Directory (AD) tool can help in syncing your company's existing users, adding new users, and deleting users with Zoho Directory. Users will be automatically added to your account and you can also assign users to specific applications. Similar to just-in-time provisioning, whenever you add a user to your Active Directory, they'll be synced (you can schedule the sync using the sync settings) to your Site24x7 account based on conditional assignment.
For instance, with Active Directory, you can configure conditional assignment to add users to Site24x7 automatically. Learn more about Active Directory configuration.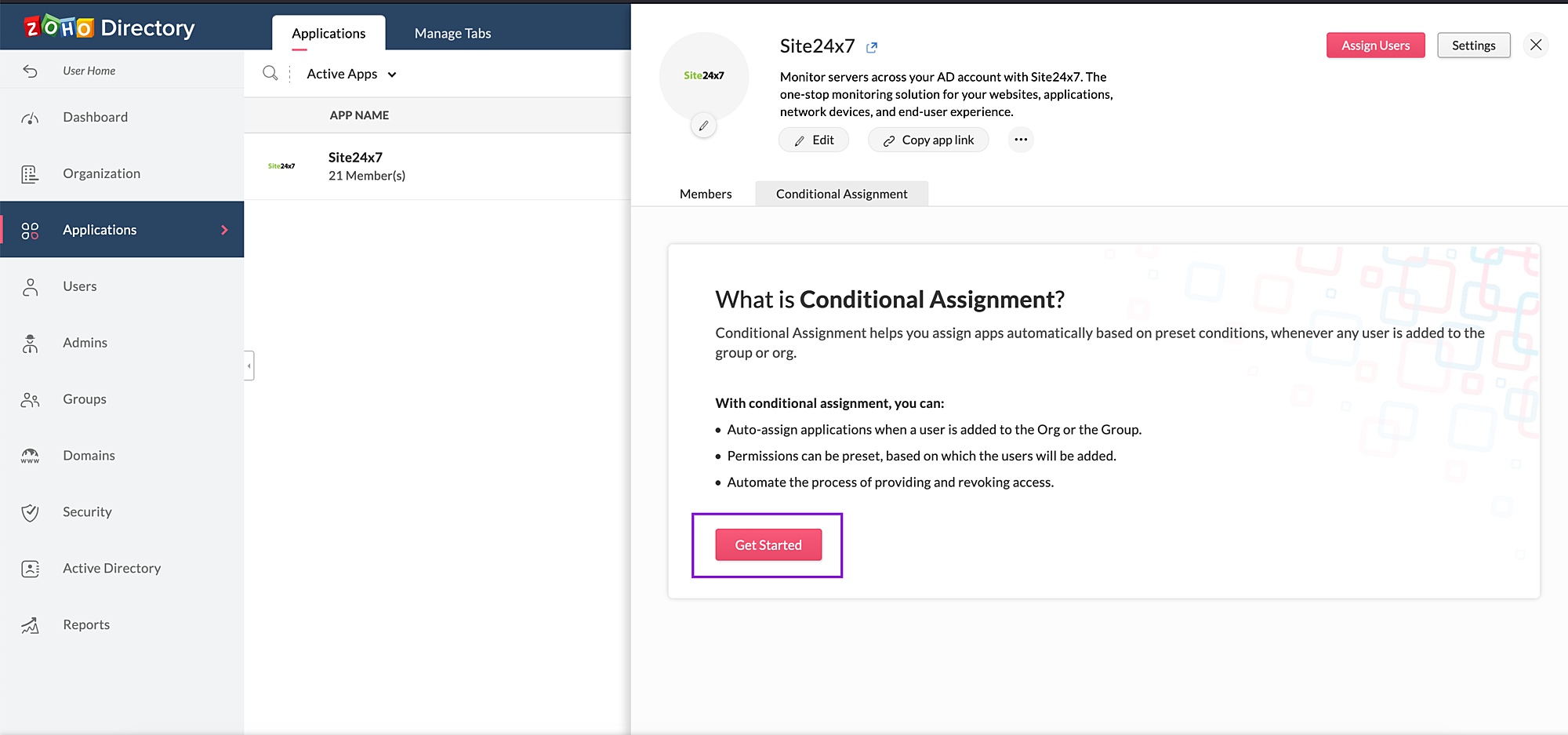 SAML authentication for Zoho Directory
Custom Authentication in Site24x7 offers support for SAML-based single sign-on (SSO) from your preferred identity providers to Zoho. Once Custom Authentication is configured, your users can sign in without their Zoho accounts and passwords.
You can configure Custom Authentication using Zoho Directory, however users will not be added automatically to Site24x7.
Organization security configurations
You can add and update various security-related configurations at the organization level using Zoho Directory. For instance: