Getting Started
Hosted monitoring for managed service providers
Managed service providers (MSPs) providing hosted monitoring solutions aim to maximize the uptime and performance of their customers' services while reducing overall costs drastically. To be a successful MSP vendor in the crowded hosted monitoring space, you must be equipped with the right skills and resources to help you navigate your customers' IT infrastructures while providing deep insight into their service availability. Site24x7's cloud-based remote monitoring platform can help you manage your customers' IT infrastructures easily and effortlessly.
As cloud computing becomes more widespread, MSPs providing hosted monitoring solutions are in increasingly high demand. Site24x7, with its all-in-one monitoring capability, gives you the insights you need to increase profitability in a competitive market while also helping you gain better visibility into your customers' infrastructures.
Learn how to convert Site24x7 eval account into MSP Edition.


Monitoring-as-a-service with Site24x7's MSP program: Key benefits
Site24x7's MSP services help you provide managed IT infrastructure monitoring services across multiple customers all from a single MSP console, giving you deep visibility and control of your customers' IT infrastructure environments.
With this complete cloud-based monitoring solution, you can monitor every tier of your infrastructure and monitor multiple customers in silos in a multi-tenant setup. Each customer account is secured and administered as separate entities.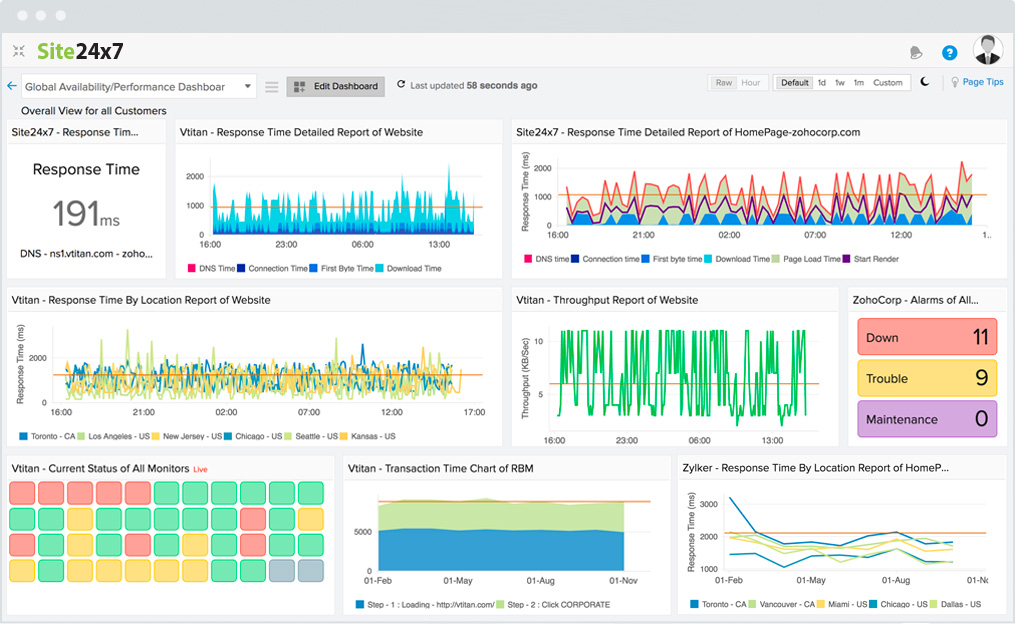 Key features
High-level view of your customer accounts: Access the Customers tab to get a glimpse of your customer accounts.

Get a high-level operational status view of every customer account using the Customer Health View feature.
View the real-time status of all monitors in your MSP account in a single dashboard with the NOC View.
Create Customer Groups to ensure better management of customer accounts.

Custom Dashboards: Create customized views that portray various metrics from all your customer accounts by building dynamic widgets for your customers' metric data.
MSP users: Customize your Site24x7 MSP account by adding more MSP users and allocating them specific user privileges.
Manage your customer accounts: Learn how to add and manage customer accounts.
Configuration Profiles: Manage threshold, notification, location profiles, and email templates across all your customer accounts.
Audit logs: Record and track all the changes made to your Site24x7 MSP account with audit logs.
Third-party integrations: Integrate your Site24x7 alarms with a third-party service of your preference.
My Account: View and manage your account settings using the My Account dashboard.
Subscriptions for MSPs: Learn more about Site24x7 subscription plans and how to upgrade a plan, buy add-ons, or apply licenses to individual customer accounts.
Advisor: Obtain best practices and recommendations using the Advisor feature to ensure comprehensive monitoring to improve the overall resource availability and performance of your customers' IT environment.
Alarms: Manage all monitor alarms across your customers' accounts.
Site24x7 Android and iOS app support for MSPs.