Track key load balancer monitoring metrics
With exclusive device templates, monitor critical performance attributes for devices including Cisco, A10, and F5 load balancer.
Active client connections
Active server connections
CPU fan speed
CPU temperature
CPU utilization
Failover status
Global TM virtual server status
Global TM pool member state
HTTP requests
Memory utilization
Pool member status
Power supply status
SSL sessions count
Total HTTP GET requests
Total HTTP POST requests
Control network failover with SaaS-based monitoring
Obtain distributed network management
Track your whole network, with detailed stats on the status, availability, and performance of each device, by connecting to your devices' SNMP MIBs.
Monitor traffic and bandwidth utilization
Track real-time network traffic of any device at the interface level using bandwidth utilization data based on inbound and outbound traffic, including accurate graphs.
Use custom SNMP monitors
Create custom SNMP monitors to keep track of several critical stats, including metrics provided by your vendor and those offered by our network monitoring tool.
Track anomalies in real time
Identify problems with solid data on the duration and cause of outages. Use root cause analysis to keep track of anomalous behavior.
Gain deep performance visibility
Obtain deep visibility into the performance of your load balancers by monitoring all SNMP performance counters and the custom monitors of your choice. Keep an eye on service endpoints with exhaustive data collected.
Receive precise downtime notifications
Stay up-to-date with timely notifications. Get email, SMS, voice, instant messenger, RSS, browser, and push notifications about downtime. With detailed status pages and notifications on all your favorite channels, keep yourself informed about the status of your network.
View all load balancer monitoring metrics from a single dashboard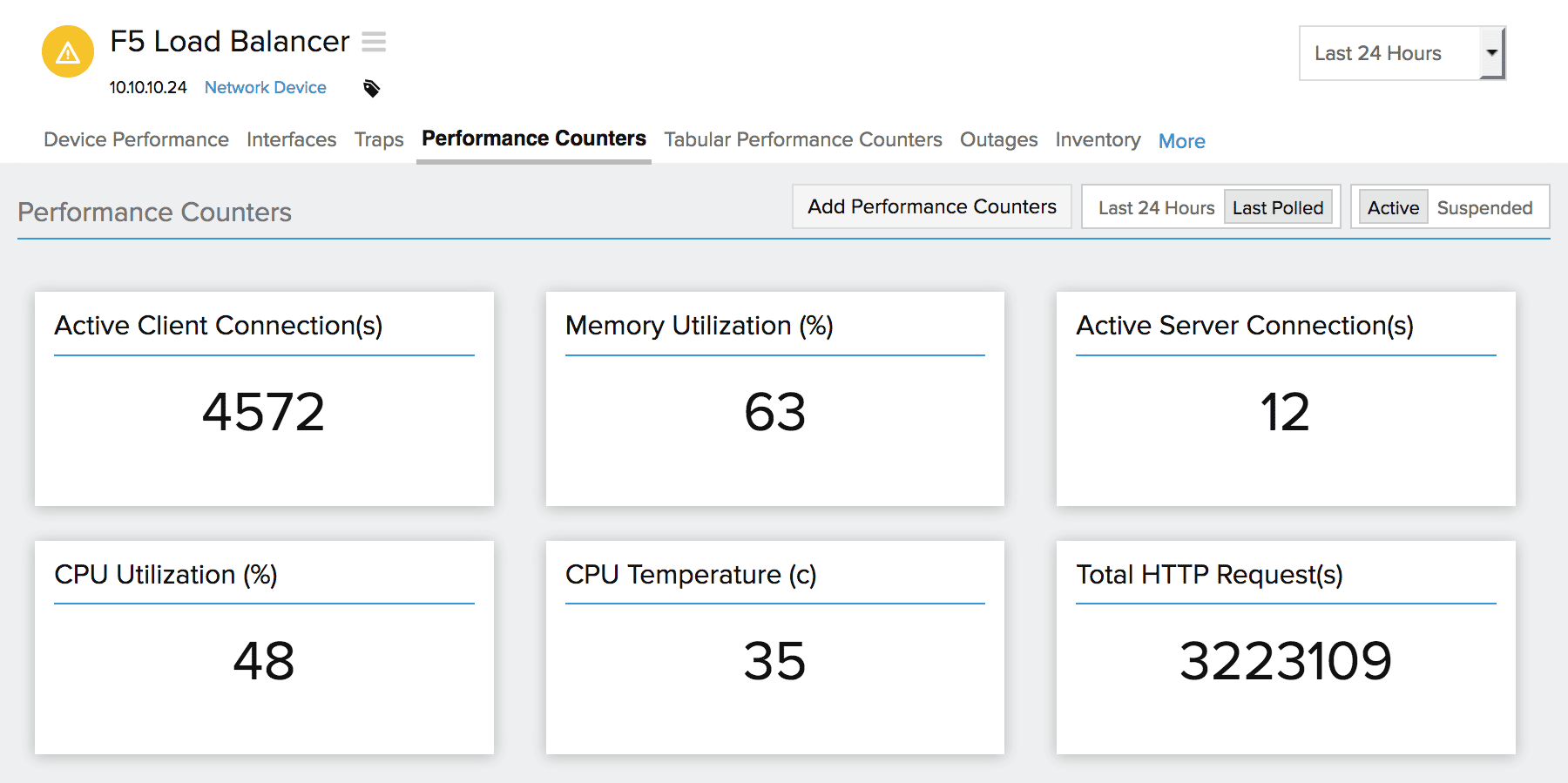 <
Get more than just performance data
Scalability
Scales to monitor thousands of network devices
Network Discovery
Add multiple devices at once using an IP range
Alerts and Reports
Get timely downtime alerts, and view reports with graphs
High Availability
Ensure high network availability by optimizing bandwidth allocation
Related Features