Mobile end-user experience rules! In fact, mobile users are as demanding as their Web desktop counterparts (if not more), so your Web Operations (and ultimately business revenue), hinges on your ability to ensure both Web and mobile quality experiences at all times.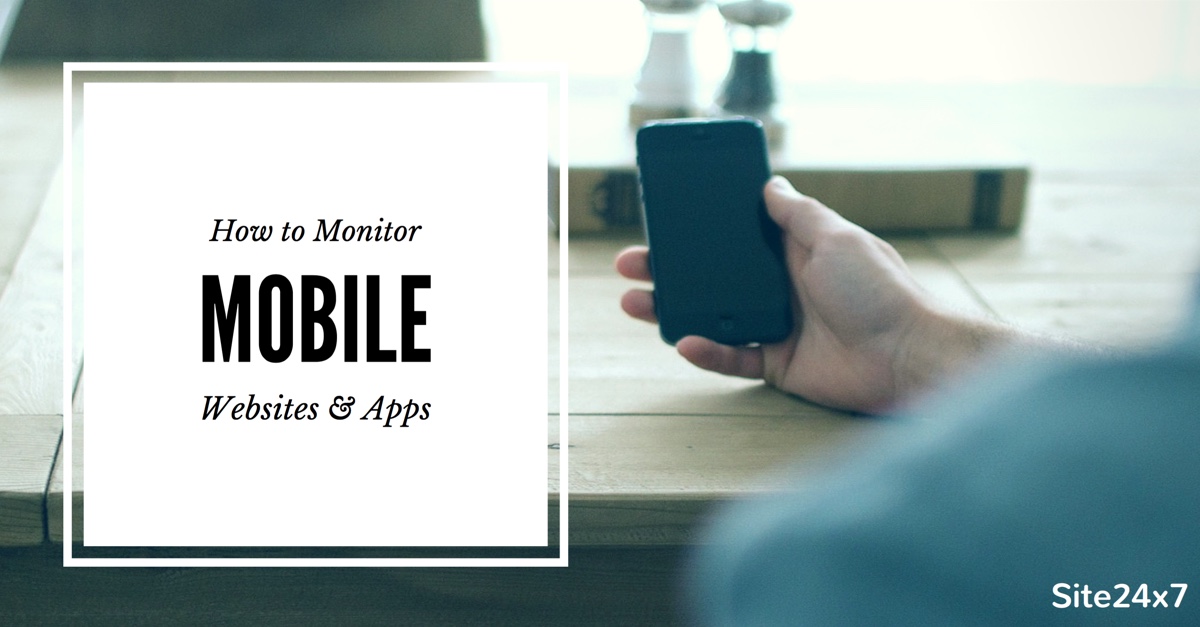 With Site24x7 Mobile Network Pollers completely integrated into your Site24x7 console, you can continuously check performance and availability of your mobile apps, websites and other online services via wireless carriers (3G, 4G) and enterprise WIFI networks — from a mobile user perspective.
It is easy, you will convert your Android smartphone into a new Site24x7 monitoring location and get insight into various critical metrics like availability, response time, downtime and more from a real~mobile device.
Here are some tips to help you get started
1) From your Site24x7 Dashboard, go into Mobile Network Poller tab and select Add Mobile Network Poller.~Since a Mobile Network Poller is a lightweight, stateless software component that runs on an Android phone, you will have to download it from the Google app store.
2) Once installation is done, launch the app on your device, and login into your Site24x7 account to enable pushing mobile uptime and performance information right from your phone into your central Site24x7 monitoring console.
3) Click on your Mobile Network Poller to configure your alerting policies as shown below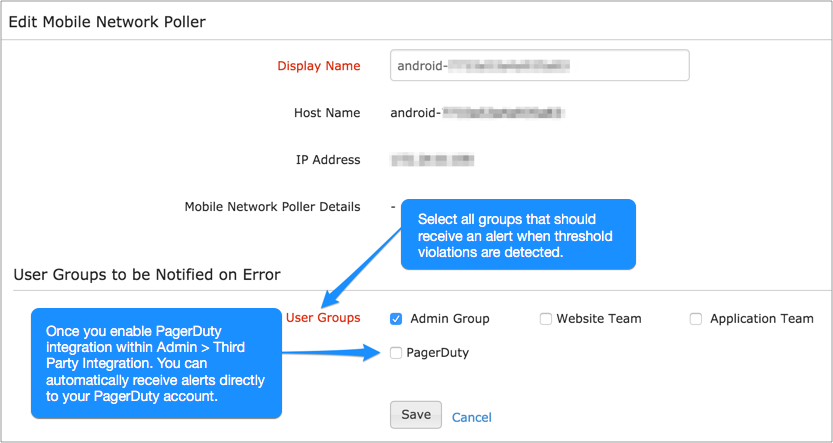 4) Set your Mobile Network Poller as your monitoring location – click Admin > Configuration > Location Profiler
5) Create a Website monitor and use your new Mobile Network Poller as a monitoring location by going into Admin > Inventory > Monitors and selecting Website.~Under Website address type the URL of the website (mobile version, or URLs with custom API calls) that you want to monitor, just see below.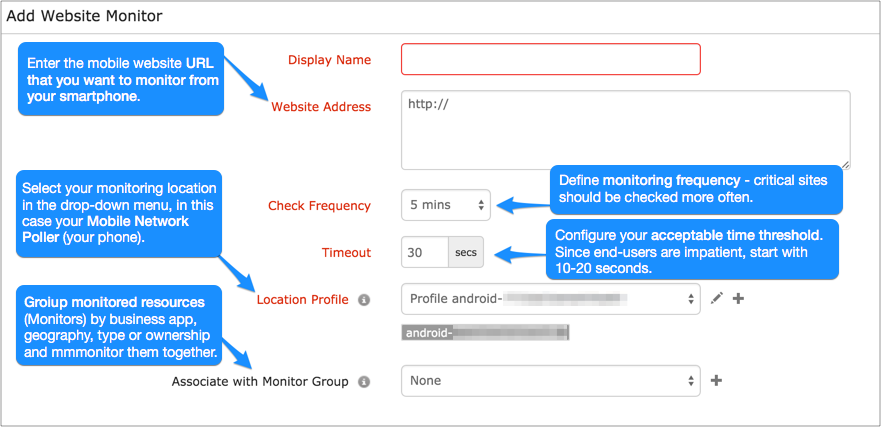 In addition, if your Web services use the REST architecture instead of SOAP, you should configure a Site24x7 REST API monitor to periodically check the response of your REST APIs and get alerted if the response does not contain the specified attribute value at the given XPath/Attribute name. With Site24x7 single console you can monitor Web and mobile sites performance together with networks, cloud resources, virtual infrastructures and application code side-by-side, as shown below.
You can also enable monitoring of your native mobile applications on actual end-user devices by embedding a Site24x7 APM agent in your applications in the form of a library – Site24x7 Mobile APM for iOS. That way you can gather and aggregate metrics from all your users across the globe to measure the execution time of your code. You can even use the development version of the Site24x7 Mobile APM for iOS to test your iOS 8.0 or higher applications in pre-production via a simulator before rolling it out.
Ready to get a complete picture of Web and mobile user experience in one view? Sign-up for a free Site24x7 trial account!~Want to share your mobile monitoring strategy with your IT peers in the Site24x7 community? Visit our Site24x7 community Forums!
Happy Monitoring with Site24x7!