View all your critical metrics in a single dashboard.
Get visibility of all the important parameters of your server performance in a single console
The heat map analysis gives you a quick summary on the status and performance of your server over the last seven days
System load/uptime
CPU/memory/disk utilization
Memory breakup
Lists down the applications associated with your monitor
Down/trouble history
Memory breakup
Use our IT Automation tools to automate repetitive tasks and remediate threshold breaches.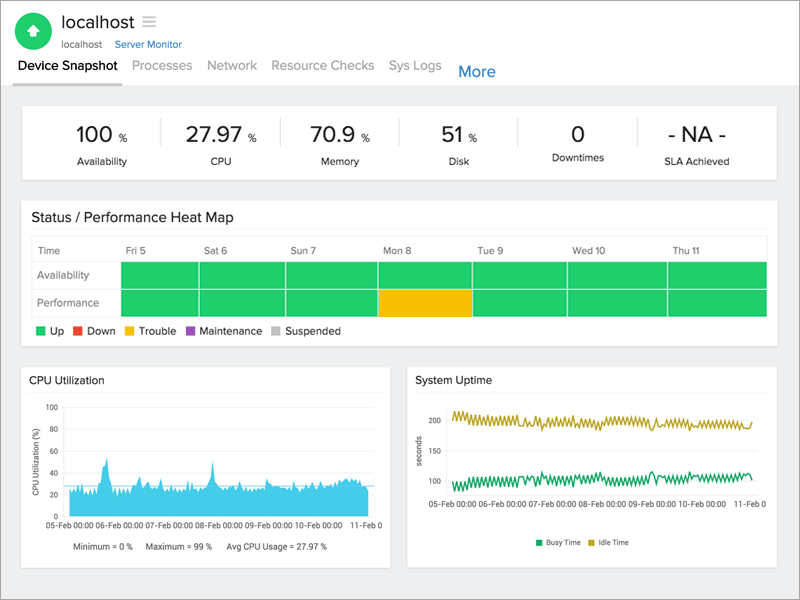 50+ plugin integrations to monitor your entire app stack.
Plugins allow you to monitor hosts, devices, services, protocols, applications and all resources, thus giving deep performance visibility into things that matter. Our plugins are supported in various Linux distributions including Debian, Ubuntu, CentOS, RedHat, Madriva, Fedora and Suse, CoreOS, Raspberry Pi and ARM Processor. You can also create custom plugins using Python or Shell script.
Our support for Nagios allow you to execute all your existing Nagios plugins and harness the power of the open source community.
Supported Plugins: GlassFish, MySQL, Redis, Memcached, MongoDB, NGINX, HAProxy, Zookeeper, WordPress, Apache, Zombie Process & more.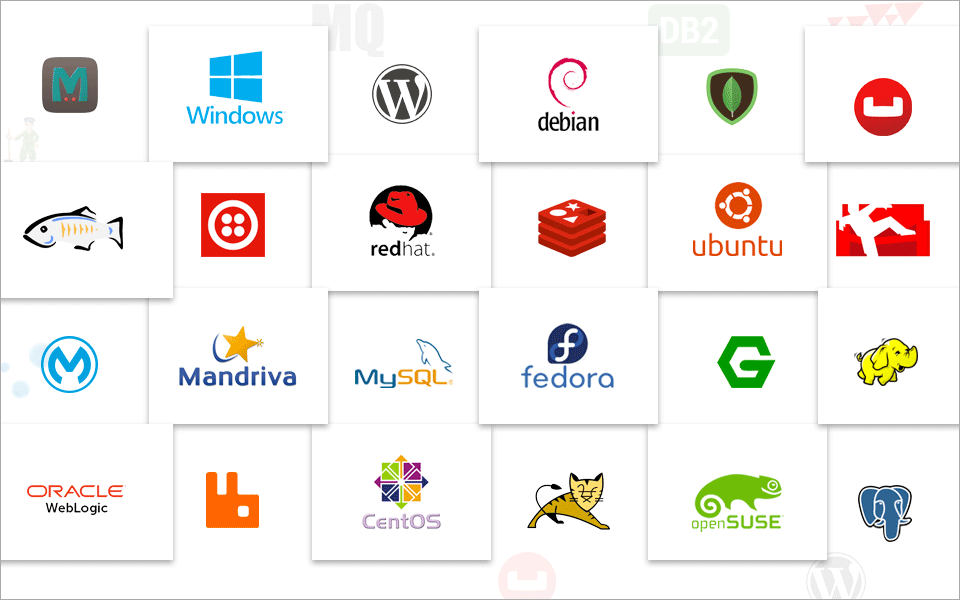 Monitor your Linux processes and network traffic.
Discover all processes running in your server and oversee critical parameters including:
Percentage of CPU/memory used by every process
The number of times that particular instance has occurred
Thread/handle count
Additionally, obtain a complete description on Linux network metrics including input and output traffic, along with their bandwidth utilization. Gain inputs on:
Data sent/received
Packets sent/received
Error packets
Speed and status of the network interface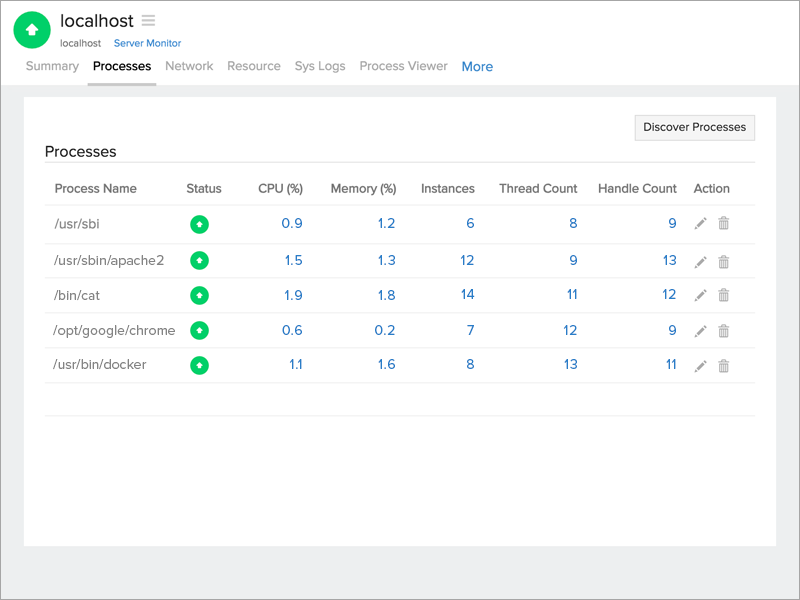 Keep a check on files, directories and syslogs on your server.
Add numerous checks and have all the resources on your server monitored proactively. Be instantly notified when a particular check fails by setting keywords, severity and facility levels. We support:
URL and Port monitoring
Get to know any change in the status of your files and directories with our File and Directory Monitoring
Be notified in real time when specific string patterns are detected using Log File Monitoring
Gather knowledge on the severity level, log types, and events by source every five minutes supported with specific graphical data with Syslog Monitoring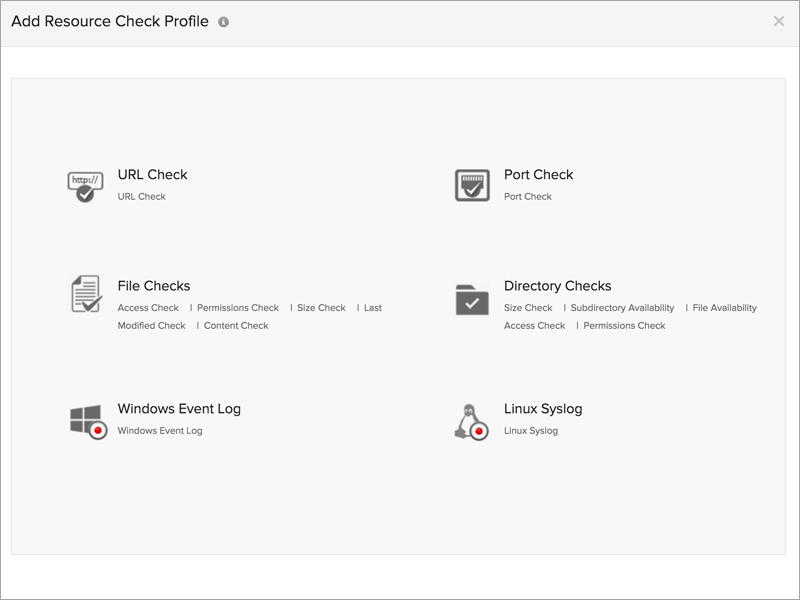 The all-in-one monitoring solution for your server performance.
Create your own customized views based on:
Memory - free/used, memory pages/utilization
Disk - overall/individual utilization, Disk I/O
CPU - Utilization by JVM/by cores, interrupts, and context switches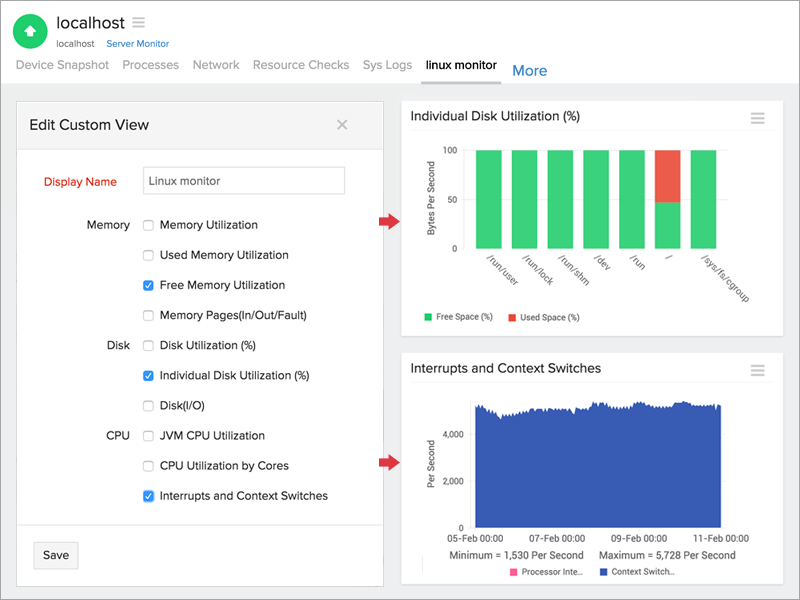 How it works.
Download and install the agent in your server. Bulk installation can be done using Chef, Puppet, SaltStack, and Ansible
The agent will then collect metrics including disk, CPU, memory usage, that can be viewed using our customized dashboard
Set thresholds and get instant alerts during outages or when the configured value exceeds